Sono Salpingo Graphy (SSG)
Laparoscopy (Endoscopy)
Salpingoscopy (Endoscopy)
SSG uses TVS to confirm the tubal patency by visualizing the spill of fluid from the fimbrial end of fallopian tubes.
It is an endoscopic procedure performed under anaesthesia to check for the patency of and character of fallopian tubes through a dye passed intracervically.
If tubes are unhealthy or blocked, they can opened through minor procedures like cornual cannulation or salpingoovariolysis, neosalpingostomy.
In case of thick walled blocked dilated tubes, it is better to clip/remove the the tubes at time of laparoscopy and opt for IVF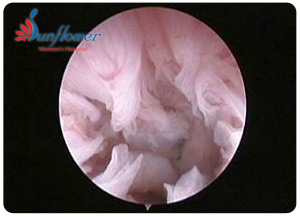 Salpingoscopy is defined as visualization of mucosa of the ampullary portion of the tube by a telescope. In this procedure 1.8 mm telescope is introduced from the fimbrial end of the tube to evaluate the lumen.
Salpingoscopy is an advanced surgical procedure which requires specialized training & skill. It involves the handling of fallopian tubes which is a unique & delicate structure – especially the fimbriae. Here, we would like to state that any surgeon performing Salpingoscopy should have adequate training & experience. Otherwise iatrogenic complications may arise.
We grade the tubes according to brojen's classification.
These changes have been classified as follows (12)
Grade 1 Normal fold pattern
Grade 2 Separation and flattening of major folds
Grade 3 Peripheral filmy and focal adhesions
Grade 4 Fibrous adhesions across more than 50% of the lumen
Grade 5 Fibrosis of the tubal walls with loss of the fold system
Salpingoscopy helps us to decide the further treatment modality. Findings above grade 2 may be better treated by IVF. Salpingoscopy has a role to prevent ectopic pregnancy which still continues to be one of the commonest causes of maternal mortality in first trimester.
Salpingoscopy is a newer technique but we believe that it has good prognostic values & it will soon become an integral part of infertility evaluation in all centers.