Micro-TESE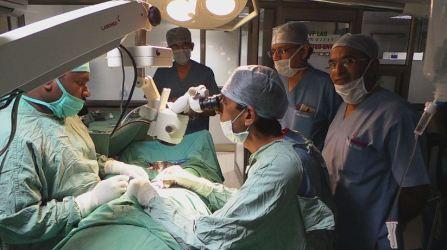 Micro-TESE stands for Microsurgical Sperm Retrieval from the testicle. This involves an operation performed through a small midline incision in the scrotum, through which one or both testicles can be operated.
For the first time at Sunflower Women's Hospital, Ahmedabad, we had first ever Micro-TESE performed on 2 Males on 17th February 2015. It was due to the vision of Dr R G Patel renowned IVF specialist, (Director, Sunflower Women's Hospital) who took a step forward in bringing in this specialized technique, to help couples in obtaining better results through Micro-TESE.
Both the couples were properly examined out of which fertility reports of both the women were normal and both men had small testis, high FSH and had non- obstructive Azoospermia. Both the males had undergone TESE for 3 times previously without sperm retrieval. They desperately wanted to father a child with their own sperm and hence DR R G Patel advised Micro-TESE to them.
This time with the help of Dr. Rupin Shah (Andrologist) and our embryology team, surgeries were successfully done in which sperms were retrieved in one patient out of the two. Previously, the results of TESE (Sperm retrieval rate with regular TESE/TESA were around 20 to 30%) were dependent on the size of testis, and serum FSH levels. But with this breakthrough technology- Micro TESE, the sperm retrieval rate is around 50%. There is less damage to testicular tissue, less blood loss and it is less painful. Micro-TESE offers the highest chances of having a baby with their own sperm following IVF/ICSI.