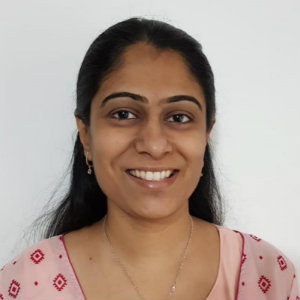 Sunflower Women's Hospital.
132 Ft. Ring Road, Drive-In Road Junction,
Opp. Traffic Police Helmet,
Nr. Manav Mandir,Memnagar,
Ahmedabad 380 052.
Gujarat,
India
Email: [email protected]
M.B.B.S. – Lokmanya Tilak Municipal Medical College, Sion, Mumbai (2003 -2008)
M.S. in Obstetrics and Gynaecology – Seth G.S. Medical College and K.EM. Hospital, Mumbai (2010 – 2013)
D.N.B in Obstetrics and Gynaecology – Diplomate of National Board (2014)
F.N.B. (Reproductive Medicine) – (2015-2017)
Membership of Obstetric and Gynaecological Societies
ISAR (Indian Society of Assisted Reproduction)
FOGSI (Federation of Obstetricians and Gynaecologists of India)
AOGS (Ahmedabad Obstetric and Gynaecolgy Society)
MOGS (Mumbai Obstetric and Gynaecolgy Society)
Paper and Poster Presentations
Role of measuring serum LH level 12 hours post agonist trigger and administration of rescue HCG trigger –t ESHRE World Congress 2018, Barcelona, Spain
Efficacy of GnRH agonist trigger – at YUVA ISAR 2017, Ahmedabad, India – 3 rd prize for best oral paper presentation.
Oocyte vitrification in donor-recipient programme – at ISAR 2017, Gurgaon, India
To evaluate the utility of ratio middle cerebral artery pulsatility index to umbilical artery pulsatility index (CPR) for prediction of adverse perinatal outcome in intrauterine growth restricted fetuses-
at AICOG 2017, Ahmedabad, India
Pregnancy outcomes and maternal and perinatal complications of pregnancies following in vitro fertilization/intracytoplasmic sperm injection using own oocytes, donor oocytes, and vitrified embryos: A prospective follow-up study. Banker M, Mehta V, Sorathiya D, Dave M, Shah S. J Hum Reprod Sci 2016;9:241-8
One plus one is better than two: Cumulative reproductive outcomes are better after two elective single blastocyst embryo transfers compared to one double blastocyst embryo transfer. Mehta VP, Patel JA, Gupta RH, Shah SI, Banker MR.J Hum Reprod Sci 2018;11:161-8
CICE endoscopy workshop held at Ahmedabad- 2015  Basic ART lab workshop held by Sir Gangaram Hospital, New Dehli , IFFS- 2016.
Embryology hands on workshop in ISAR 2017.
Workshop on Practical aspects of IUI from basics to the advance- IUI Training Module under the aegis of Indian Fertility Society.
CPCR workshop held by Anaesthesiology department of Lokmanya Tilak Municipal Medical College and Hospital, Mumbai.
YUVA ISAR 2017
IFFS 2016
ISAR 2017
AICOG 2013 – 2017
FOGSI – FIGO Conference 2011
Annual MOGS Conference 2011-2013
My special interests lie in mild stimulation IVF, management of poor responders, advanced maternal age, recurrent implantation failure.