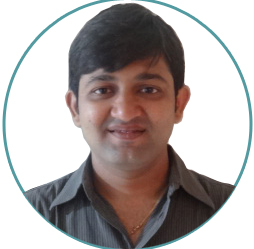 Sunflower Women's Hospital.
132 Ft. Ring Road, Drive-In Road Junction,
Opp. Traffic Police Helmet,
Nr. Manav Mandir,Memnagar,
Ahmedabad 380 052.
Gujarat,
India
E-mail: [email protected]
My aim as an Embryologist, is to demonstrate my skills and utilize the gained experience further to work in favor and for the betterment of the organization. Also to thrive in a highly professional & challenging environment where there is advancement and room for career and personal growth, finally to become a dependable and conscientious leader of an Assisted Reproductive Techniques (ART) team.
Educational Qualification
| | | |
| --- | --- | --- |
| Course | Institution | Year |
| Master's of Biotechnology | University of Western Sydney (UWS) | 2009-2010 |
| Bachelor's of Pharmacy | Pune University (AISSMS COP) | 2004-2008 |
Currently working as a Embryologist at Sunflower Women's Hospital since October ' 14.
Competency in the following techniques:
Maintain and troubleshoot IVF laboratory equipments, such as CO2/O2 incubator, micro-manipulator, laser system, etc.

Oocyte collection and denuding

Identifying stages of oocyte maturation

In-vitro maturation of human oocytes (IVM)

Oocyte Intra-cytoplasmic sperm Injection (ICSI)

IVF inseminations

Embryo and Blastocyst culture

Fertilisation assessment and Embryo grading (Day 1-Day 6)

Embryo and Blastocyst transfer

Laser assisted hatching

Time Lapse Imaging

Oocyte and embryo cryopreservation by Vitrification method /controlled freezing method

Embryo biopsy and Tubing for PGD/PGS

(Trained & Validated but yet to perform on patients)

Semen analysis and Sperm cryopreservation and thawing

Semen sample preparation using various methods for ART procedures

Surgical sperm retrieval (SSR) (TESE , TESA, Micro- TESA and PESA sperm preparation)

Patient Counselling

Conducting IUI worskshops for Infertility Consultants and Lab Techinicians

Maintaining necessary data
Thesis on Mix culture Biofilms
Main objective of thesis was to define conditions that encouraged the formation of biofilms in pure cultures followed by formation in co-cultures i.e. mix culture and studying distribution of the organisms this mixed culture biofilm.

The viability and stability of each organism in the biofilm was studied. Different organisms used included

E.coli O157

,

E.coli K 12

,

Pseudomonas aeruginosa

and

Bacillus subtilis

.

Every step performed was under aseptic technique.
Different instruments handled during this experiment include Autoclave, Incubator, Sonicator, LAFU, Vortexing unit, and a light microscope with a digital camera. Nutrient agar and MacConkey's agar plates and slants were prepared to maintain pure cultures.